Test Prep – SAT/ACT
Please call to discuss the best options for

YOUR child.
Do you know schools accept both tests, but kids usually excel at one far more than the other?
We perform assessments as part of our packages, and work with you to determine which is the best test for YOUR child.
SAT/ACT Student Den Courses & Test Dates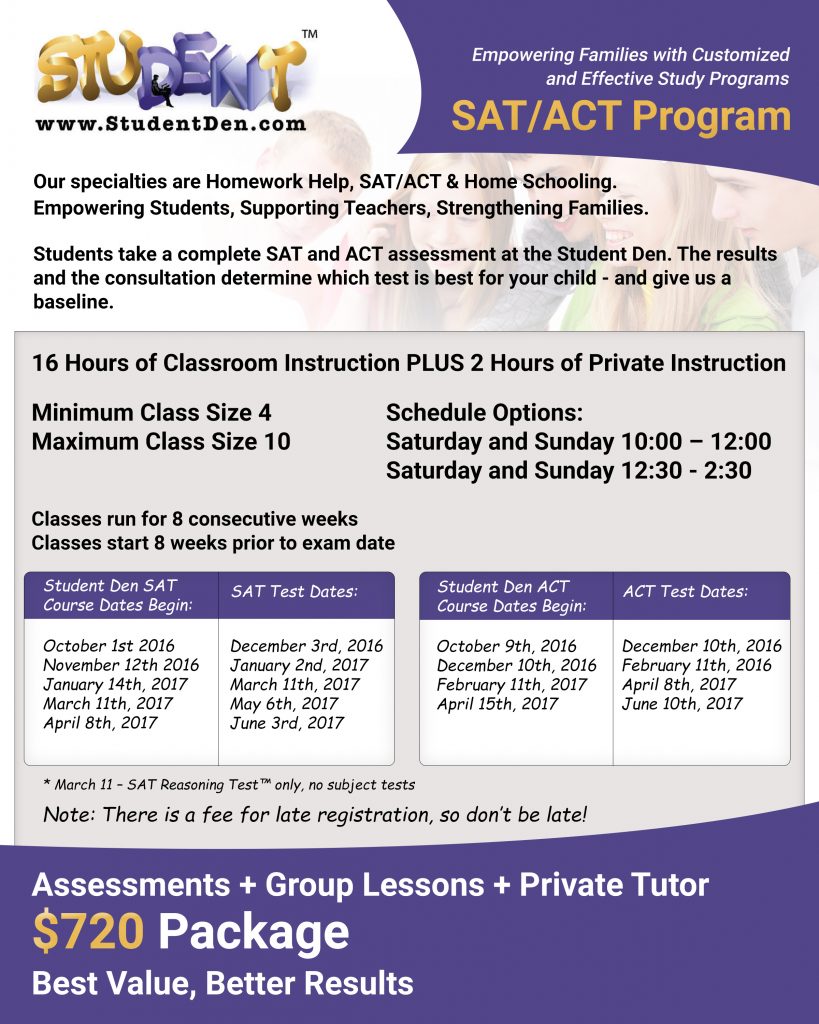 5 of the MANY reasons you want the Student Den to work with you child:
With our assessment we truly analyze strengths and weaknesses, tailoring a plan to focus on your child's specific needs.
We work with kids on their mindset related directly to taking the test, and then work with them to allow them to BELIEVE that the hard work they have done will transfer to better results on the test.
We don't wait on 'mock' tests to see a student's progress. We begin re-scoring two and three weeks after the assessment and continuously until test date. If a student is seeing increased test scores in practice, it will translate to better practice habits that, in turn, lead to better scoring.
We CARE. Junior year is the most difficult in high school. We look at the student, his/her life, what is going on in the life of the family and then put together test dates based on looking at the student and the family as a whole.
We don't just focus on concepts. We also teach strategies on "How" to take the test in order to maximize scores.
We are proud to say that with all the children we have worked with, viewing each as an individual, we have had success after success after success. It's really just that simple. Come in and meet with us and we will show you.
SAT, ACT, FCAT, PSAT
It's hard to talk about standardized testing without acknowledging there are many points of view on standardized testing and its capability to properly evaluate students in a fair, open, valid and educationally beneficial way. BUT, the fact is, although a growing number of colleges are using a multitude of ways to assess strengths and aptitude, right now standardized testing is what we have to contend with. So, we at the Student Den want to work with you and your family for the best possible results.
Junior and Senior years are a busy and extremely important time in the college admissions process. This is the time to get the SAT and ACT scores you need to get into the college of your choice. Your Senior year is when you have to narrow down your college options to the handful of schools to which you'll apply, and to ensure you are on the right path to get the applications completed while meeting application deadlines. During the application process you'll need to keep active in extracurricular activities and maintain high grades, as colleges are interested in seeing that you continue to excel. Applying to college takes thought, effort, and organization. The Student Den's tools and expert advice can help you get organized with your applications, apply to colleges online, and write solid admission essays. We will also help you to get your resumes together, and your letters of recommendation. The Student Den will help you meet all the deadlines, keep you organized, and assist you with the skills you need to meet your goals!
Hummmm…. SAT? ACT? … What's the difference?
Okay – so now that the Student Den is there to get me ready for college and to guide me through the complicated application process, I'm no longer so stressed, BUT… now I have to take the SAT or the ACT. To break it down, we know the SAT and ACT are globally recognized college admission tests that let you show colleges what you know and how well you can apply that knowledge. They test your knowledge of subjects that are taught every day in high school classrooms. Most students take the SAT and ACT during their junior or senior years of high school, and almost all colleges and universities use the SAT and/or the ACT to make admission decisions. BUT……ACT ? SAT? … Whats the difference?
The ACT is an achievement test, measuring what a student has learned in school. The SAT is more of an aptitude test, testing reasoning and verbal abilities.
The ACT has up to 5 components: English, Mathematics, Reading, Science, and an optional Writing Test. The SAT has only 3 components: Critical Reasoning, Mathematics, and a required Writing Test.
Until recently, the ACT was traditionally required by colleges in the midwest, and the SAT was the test of choice in the northeast and on the east and west coasts. But now an increasing number of students are taking the ACT, and the majority of schools in the United States now accept both SAT and ACT test results.
Here are some of the factors that make the SAT and ACT very different breeds:
The ACT includes a science reasoning test; the SAT does not.
The ACT math section includes trigonometry.
The SAT tests vocabulary much more than the ACT.
The SAT is not entirely multiple choice.
The SAT has a guessing penalty; the ACT does not.
The ACT tests English grammar; the SAT does not.
The ACT is a content-based test, whereas the SAT tests critical thinking and problem solving skills. Depending on your particular strengths and weaknesses, you may perform significantly better on one test than the other. Regardless, you should check the testing requirements each of your target schools before taking either exam.
Remember, both the SAT and ACT are important parts of your application, but they're only one of several factors–from your courses and grades to recommendations and your personal statement–that colleges consider.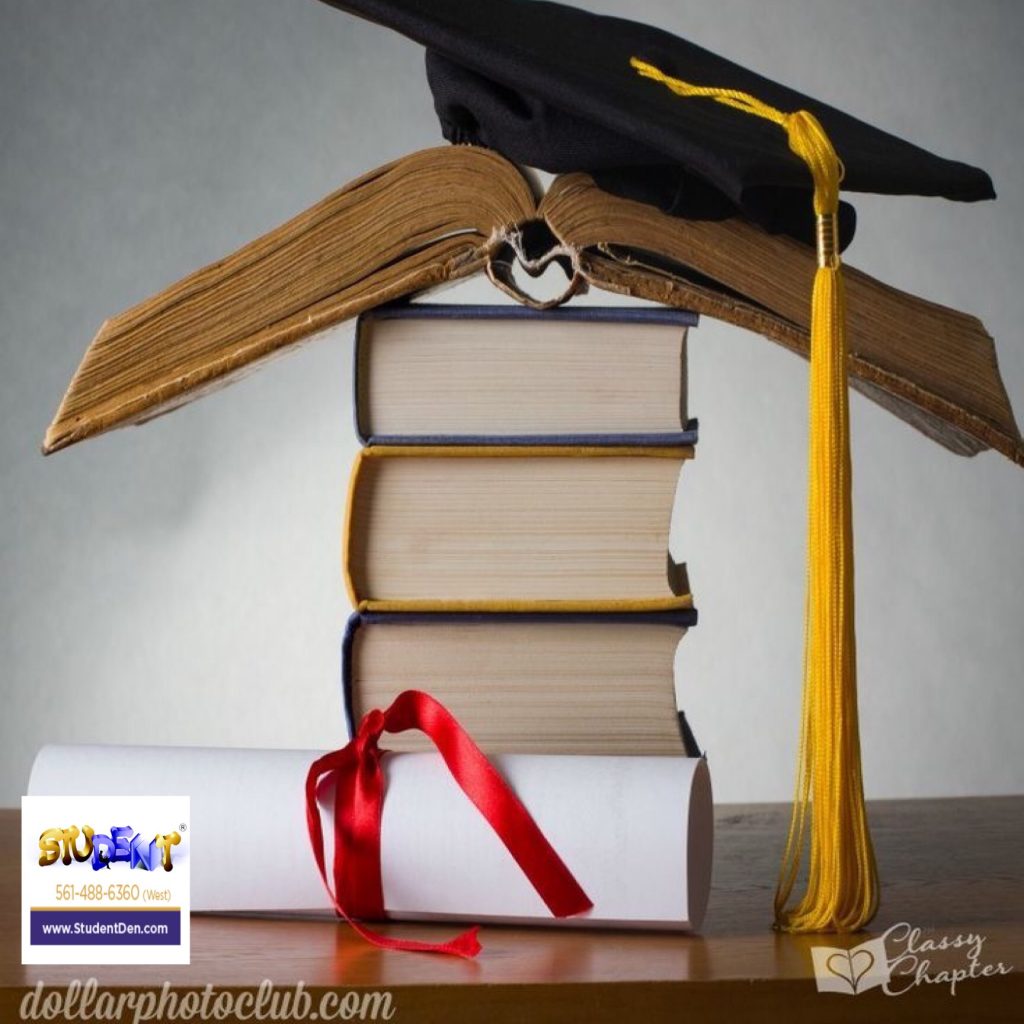 SAT: Mayths and Misconceptions
MYTH #1: The SAT is a test of intelligence and my scores are a good indication of how I will do in college.
FACT: Your SAT scores reflect how good you are at taking the SAT (as well as how much time you spent preparing)–and that's about it. Nevertheless, admissions officers continue to place great weight on this test. So it's important to do well.
MYTH #2: The SAT tests complex math concepts.
FACT: SAT math can seem challenging because of the way the concepts are tested, not because of the concepts themselves. The math sections include concepts you learned in the seventh or eighth grade, like arithmetic, basic geometry, basic algebra and algebra II. You won't see any calculus or trigonometry on the SAT.
MYTH #3: You can't really improve your Critical Reading score.
FACT: You can improve your Critical Reading score by expanding your vocabulary. Reading comprehension and sentence completions all rely upon your understanding of the words in the questions and answer choices. So read books, newspapers and anything else you can get your hands on, and check out our SAT prep for additional vocabulary-building tools.
MYTH #4: It's better to leave a question blank than to guess.
FACT: Not necessarily. You receive one point for every correct answer, zero points for every question you leave unanswered and minus one-quarter of a point for every incorrect answer If you can eliminate even one of the answer choices, guess! From a purely statistical standpoint, this approach will gain you more points over the whole test than you'll get by playing it safe and leaving the questions blank.
MYTH #5: The length of the essay is irrelevant.
FACT: Even though the College Board will tell you that the length of an essay is not related to its score, studies have shown that there is a strong correlation between essay length and higher scores. Therefore, it is always better to write an essay that is lengthier and incorporates more details, examples, and experiences. However, you should not fill an essay with "fluff" – such mundane, wasted words only annoy the graders.
MYTH # 6: The best time to take the SAT is on (so-and-so) testing date
FACT: We've heard this one time and time again. Many students feel that the curve is easier on the June and September testing dates because more students who performed poorly on the first test are retaking, or because fewer students overall are taking the test. Neither of these claims is necessarily true, and there is virtually no link between difficulty of the curve and testing date. Test after you have studied, and base your decision only on your own abilities.
MYTH #7: You can guess which section is the "experimental" one
FACT: Simply put, there is really no way to determine the "experimental" section. It could be writing, math, or reading. It could feature easier or tougher questions. You should not work "less hard" on a section because you think it is the experimental section
MYTH #8: A 2100 is much better than a 2090
FACT: To admissions counselors, a total score of 2100 is identical to that of a 2090. In fact, most counselors would find a score of 2050 identical to the 2100. First of all, the variance of the "curve" could account for much of the difference between scores. Second, 50 points usually represents a few questions, hardly a "make-or-break" assessment for college admission.
MYTH #9: Since the Writing section is new, it doesn't matter/ it's harder
FACT: The Writing section has a lower mean score because it is newer, but most prepared students actually find the Writing section easier than the Reading section. In fact, students who have taken test preparation courses experience the highest score increase in Writing. Along those same lines, even though the section is new, you cannot dismiss it. Colleges may claim not to look at it, but it's right there next to your other two scores on the score report. Don't take your chances – do well!
MYTH #10: Re-Testing "looks bad"
FACT: Total nonsense. Almost all colleges do not consider a student who re-tests any worse than the student who does not, and most students re-test. Why? Re-testing usually marks a very mediocre increase in score because the SAT is designed to test intelligence, not knowledge. Students do not typically become "more intelligent" between testing periods. However, some students experience great success after preparing for the exam. In general, if you are not happy with your score, re-testing is a great option. READ THIS MYTH AGAIN!!! IT IS SO IMPORTANT!
MYTH #11: You should use your calculator to solve most math problems
FACT: The students who receive 800's on the math section are typically not the ones who are calculator whizzes – they are simply better prepared for the exam. Using a graphing calculator to solve simple math problems may seem like a great solution to your math issues, but in the end you will only be shorting yourself. Calculators require time and effort and are prone to input errors. While practicing for the math section, do as much as you can without a calculator.
MYTH #12: The SAT doesn't really matter anyway/doesn't test intelligence
FACT: We can debate the merits of the SAT all day, but at the end of the day, it is the standard for college entrance. Just as you should not become infatuated with SAT preparation, you should not blow off the SAT. Your personal opinion is not that of the college you will be applying to.
MYTH #13: A bad score may be due to a bad day
FACT: Unless you were sleep-deprived during a particular day, it is unlikely that re-testing alone will boost your score. Many people attribute low scores to "having a bad day," but research shows that this is generally not the source of the low score. If you get a bad score, take it as such – don't blame your mood or the way you felt – and find out how you can improve by coming to visit us at the Student Den. Contact@StudentDen.com
Taking Test: How to support your child in preparation
The best way to prepare for tests is to study, know the work, and take the right courses.
Call upon the Student Den to help with study skills and weak academic areas.
If your child is nervous at test time, ask her teacher for tips on helping her relax.
Make sure that your child is in school during the testing sessions. Do not plan any doctor or dental appointments on test dates.
Make sure that you are aware of your child's performance and that you can help interpret the results when they become available.
Remember to keep well-informed about your child's tests. Know how test results are used and how they will affect your child's placement in school.
If there are major differences between standardized test scores and school grades, find out why.
Encourage your child to study over a period of time rather than "cram" the night before.
Encourage your child to listen carefully to all test-taking directions given by the teacher and to ask questions about any directions that are unclear.
See that your child gets his/her regular amount of sleep before the tests and is well-rested.
Make sure that your child eats his/her usual breakfast on the day of the test. Hunger can detract from a good test performance.
Encourage your child to do his/her best.